Overview:
The Crystalline C140 & C140A full serve sneeze guards are a clean simple way to provide the required food shield without creating a cluttered look. This style has a vertical front shield which is 18" or 22" high. The C140 is used on straight counters, where the C140A is for curved counters. The C140 has a standard 12" top shelf, which can be up-graded to 18" or 22" when the proper supports are used. The C140 & C140A can support a removable mid-self. The bay size can be as small as 24" or as large as 84", and it is possible to connect multiple bays to build a serving line of unlimited length. This is a NSF certified sneeze guard when either the "deep" or the "extended" end supports are used.
Inside or outside radius curved sneeze guards are built using model C140A. Sharp corners are possible with our specialty corner units.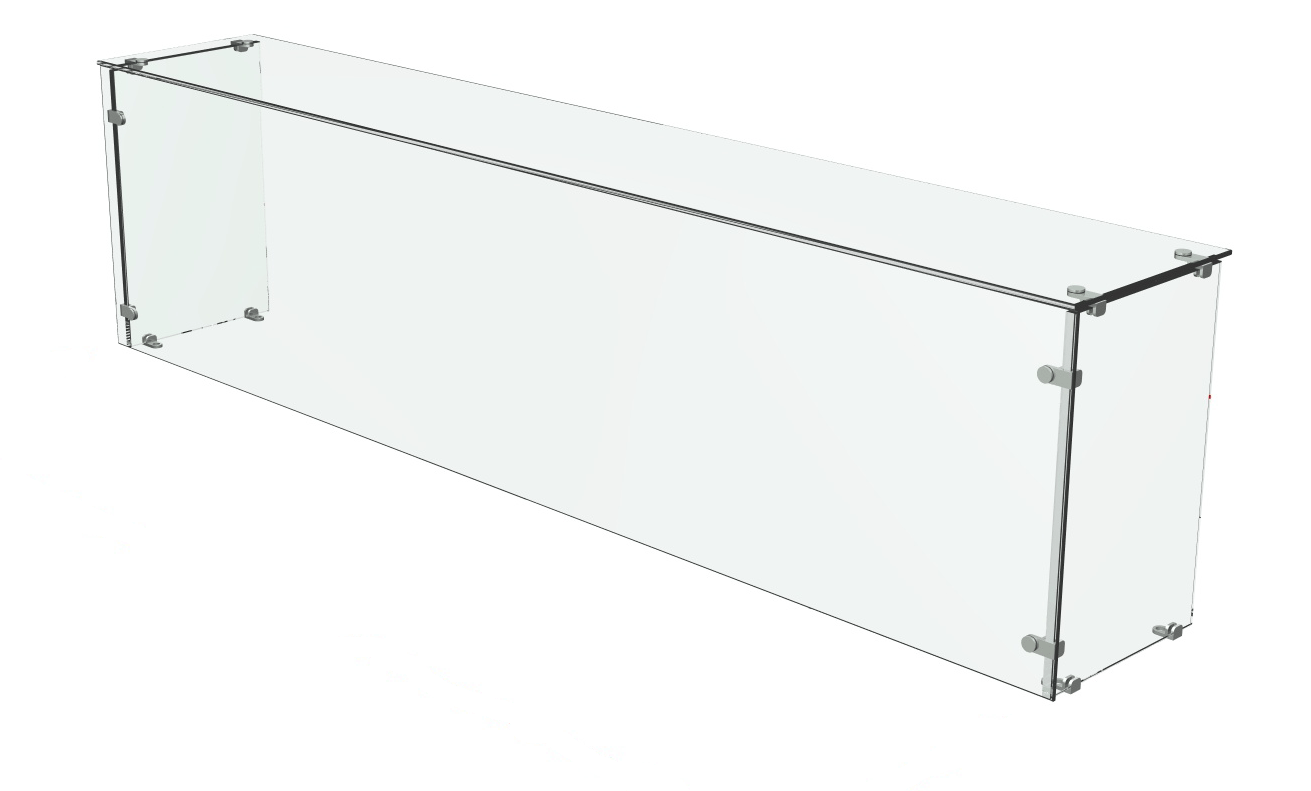 Support Styles:
The C140 and C140A Full Service sneeze guard has five standard supports styles made from Crystal Clear 1/2" safety glass. The "Open", and "Sculptured" supports are generally used as interior support to allow full counter access. The "Closed", "Deep", and "Extended" support are used as end support and shelf supports. When mid shelves are used on multi-bay units these supports are required to support the shelf.
| | | | | |
| --- | --- | --- | --- | --- |
| | | | | |
| Open | Sculpture | Closed | Deep | Extended |
Upgrades:
The C140 is also capable of having a mid-self up to 60" long. Like the top shelf, there are three possible depths on the mid-shelf, 11", 17" or 21" deep. The standard shield and top shelf are made in 1/4" glass. The top shelf can be upgraded to 3/8" Crystal Clear glass. The standard shield and top shelf come with square corners, but a 1" radius corners upgrade can be added to soften the overall look.
Upgrades:
Top Shelf Depth
Mid Shelf
Radius Corners
3/8" Crystal Clear Top Shelf
Powder-coat colors
The C140 & C140A supports the standard add-ons.
Add-ons:
Food Warmers
LED Lights
Warmer / Light Combinations